When Pilotlight launched in Scotland, The Yard was one of the first charities to sign up. This year The Yard is celebrating its 30th birthday, and in June CEO Celine Sinclair, was awarded the Leading Light in this year's Scottish Charity Awards. As part of our year of celebrating 10 years of Pilotlight in Scotland we caught up with Celine to congratulate her on her award and to talk about how Pilotlight has been part of The Yard's success.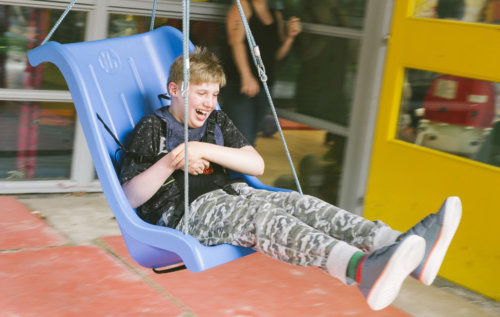 The Yard runs adventure play services for disabled children, young people and their families in the east of Scotland. It offers disabled children and their siblings the chance to experience creative, adventurous indoor and outdoor play in a well-supported and welcoming environment.
We came to Pilotlight in 2007, just after it opened in Edinburgh. At the time, the organisation supported around 50 families with turnover sitting at about £200,000. We were a small, local Edinburgh charity with a basket of strategic challenges and recognised that we needed to bring in the right kind of support to help us get back on track.
In the early stages of the engagement, the Pilotlighters helped me drill down to the heart of each issue and soon came up with some key priority areas.  The first was how could the trustees and I find a better balance between managing the day-to-day operational demands of the organisation and still make time for long-term strategic planning. The second focused on how well the organisation was managing its financial controls and ensuring key people were kept abreast of exactly where finances were at any given time.
Throughout the project, my confidence as a leader grew enormously. I feel much more in control when making key decisions about growing the organisation and taking on a bigger staff team. Pilotlight helped support our 'go forward' and we haven't looked back since.
When we heard about Pilotlight's programme with the RBS graduates, we jumped at the opportunity to get involved again. This helped us further as we were able to develop our fundraising and marketing strategy for new sites in Dundee and Fife – key planks of our future plans.
The Yard is a success story with significant but well managed growth. We turn over almost £1,000,000 and support 800 families across sites in Edinburgh, Dundee and Kirkcaldy. Working with Pilotlight has developed our confidence to grow successfully and linked us with the professionals and networks we can learn from.  It's great long-term support. 
Discover how you could become a Pilotlighter here.