A few strides west from our London office I can look up at the City's glassy towers where, metaphorically at least, the ambitious have made it to the top. My walk home eastwards however, past the Salvation Army's largest hostel and the vibrant but overtly impoverished Whitechapel Market, feels like another world. I cannot fail to be mindful of the gap. Also mindful of that gap are our Pilotlighters, our skilled volunteers, who are determined to look out and not lose touch.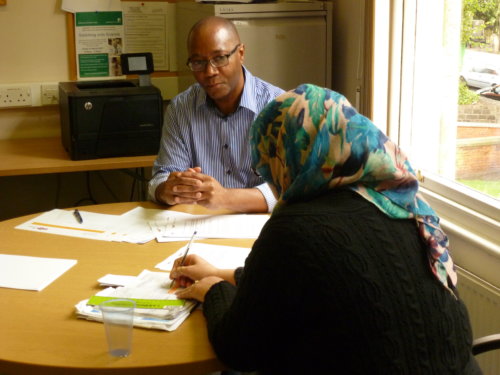 An essential part of our Pilotlight Programme is taking them to visit the charity they're working with to understand its environment and get closer to that gap for themselves. A highlight of these visits is meeting the beneficiaries, hearing their stories and the impact the charity is having on their lives. I took a team to Leeds this year, where we were welcomed by Daniel Mundet, CEO of PATH Yorkshire. PATH minds the employability gap, lays stepping stones and extends a hand to those who have the ambition to be employed, but who lack the education and skills. The visit yielded a chance encounter that was even more memorable than usual.
At the end of the day we met Nina* who was clearly nervous in a room of people whose lives she felt were a world away from hers. Underneath her shyness, however, was a bubbly personality which grew as she told us how she had considered studying Psychology, but four years ago family circumstances stopped all her plans. She was now applying for jobs with the ambition to work in a call centre, but hadn't yet got further than a telephone interview. With the help of PATH she was learning skills, and building confidence and determination.
The Pilotlighter team listened attentively, then Simon Gray, Head of Centre at Virgin Media, spoke first and enthused encouragement. "15 years ago I started working on the phone and over the years I've been able to progress into new roles and now lead a team of 500 people. Based on what I've seen today and talking to you, I think you'd be an excellent candidate for a role in a contact centre."
Nina smiled brightly, and Vanessa Wheldon continued, "I studied Psychology, but didn't use my degree for years. Later I got my masters in Occupational Psychology. Now I'm the UK HR Director for an international technology company, Northrop Grumman."
Nina looked thoughtful. Maybe where she had felt a chasm, she could now see just a gap – a different future and ambition. At least that's what we hoped.
In a few months, the team will disband, but in the meantime, we are trying to close another gap. Daniel is far from unskilled, but doesn't have access to the kind of leadership development that companies use to nurture their talent. The team will give him that challenge, help Daniel identify the steps, enable PATH to build capacity and become a more confident and resilient organisation.
If you'd like to join our skilled volunteers you can register your interest here.
*To protect her identity, Nina's name has been changed.