Image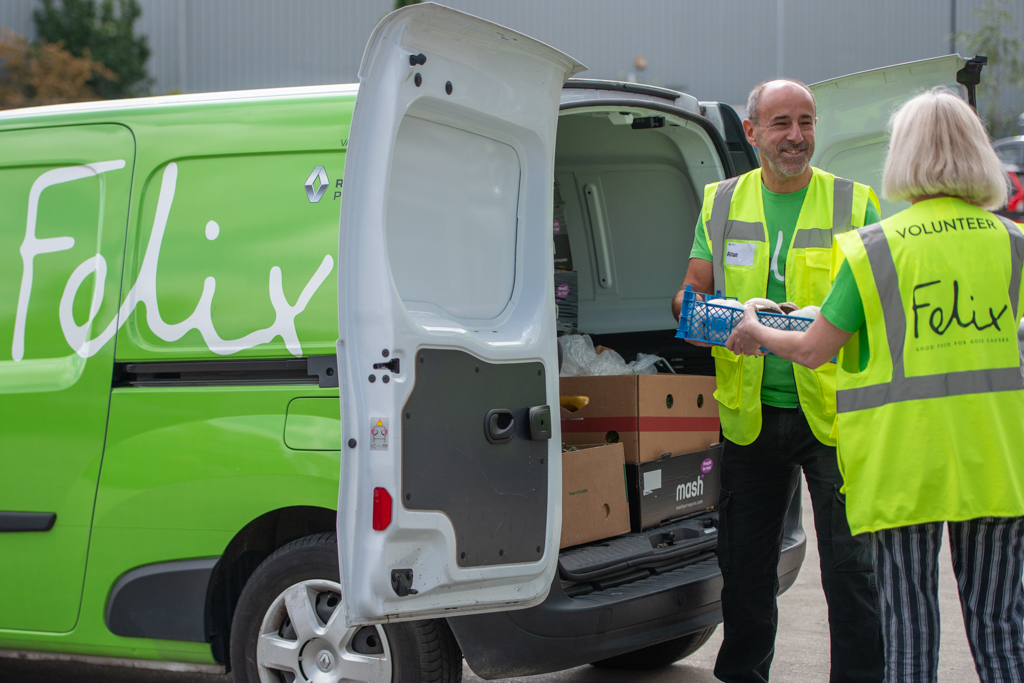 The Felix Project (TFP) is a London based charity that aims to reduce food waste across the commercial food industry and tackle food poverty in the capital by redistributing good quality nutritious food to those who are at risk of food insecurity and food poverty. It provides a free service collecting and receiving good quality surplus food from suppliers, sorting it and redistributing the food to hundreds of charities, schools and holiday programme providers across London. Its impact across the circular economy is to help reduce waste and its impact on the environment as well as helping thousands of disadvantaged adults and children get access to high quality nutritious food. Established in 2016, TFP currently works with around 400 charities and over 200 suppliers, providing 6.5 million meals per year.
With 22 full-time employees and 400 active volunteers every week, TFP operates two large depots in West and North London delivering services that include collection, sorting and redistribution of food. In Central London, the 'Green Scheme' activities include use of electric vans and walking or cycling food collections and delivery routes, where food is collected from food to go businesses and taken straight to homeless shelters and other community organisations.
Why Pilotlight and Pilotlight Insight?
TFP came to Pilotlight at a time of significant growth, with plans to expand its work significantly over the coming three to five years. As the charity relies on its volunteers to deliver and collect food, CEO Mark Curtin knew that improving the recruitment and retention of volunteers was essential to achieving this growth trajectory. TFP was seeking assistance to both better understand its existing volunteer workforce and learn more about the volunteer market across London, to aid future recruitment and retention strategies and improve the volunteer journey from first contact to return shifts. Pilotlight Insight, a programme we run in partnership with Morgan Stanley, is designed to help charities solve specific business challenges and so was a great fit with TFP's needs.
What we did
A Pilotlighter team of six Morgan Stanley Associates, supported by an Executive Director mentor and Pilotlight Project Manager, were selected to work with TFP. Over a period of 12 weeks the team learnt about TFP's work, completed volunteer shifts at depots and gathered information from the charity and elsewhere to help formulate a response to TFP's brief. At the end of the project the team presented a detailed analysis and recommendations back to TFP's senior staff and trustees.
For this project the team focused on four key areas:
Understanding the UK's volunteer market and how this mapped to TFP's volunteer database
Quantifying the hours of volunteer time needed to achieve TFP's growth targets
Recruitment and retention strategies for volunteers
Improving data collection, management and systems
Results
Having only become the CEO of The Felix Project relatively recently, it's been invaluable to receive this input on a challenge the charity is currently facing. I am very grateful for the recommendations we have been given from the Morgan Stanley Pilotlighters.
Mark Curtin,
CEO, The Felix Project
The team produced both short-term quick wins and more operational recommendations for the charity. Short-term recommendations included firstly streamlining the registration and induction process to allow volunteers to make an impact from day one, and secondly improving volunteer communication, e.g. by sending automated thank you emails with details of the amount of food that was redistributed to the local community that shift.
The wider operational recommendations focussed on improving the quality of data in TFP's database and implementing a new CRM system to manage its volunteer base through real-time data insights. Over time, ensuring maximum automation of the CRM system will enable TFP to meet volunteer growth requirements.