Leon has been in the financial services and market data space for 17 years. He started in a technology focused mergers and acquisitions (M&A) advisory firm, before moving into a fintech M&A intelligence company, and for over a decade he has run various divisions within Refinitiv, formerly the Financial and Risk business of Thomson Reuters.
In addition, Leon holds a number of board and advisory roles in the fintech space. Alongside a team, he also coaches a range of charities through being a Pilotlighter and mentors social entrepreneurs through UnLtd.
In what ways have you been involved with Pilotlight over the last months and years?
I have been a Pilotlighter for the last 4 years, supporting a number of different causes through the Pilotlight 360. As part of a team of other senior business professionals, I have been able to use my time and expertise to effectively support Spectra, Croydon Mencap, Momentum and Circles Network. So, the Pilotlight 360 has been a means for me play a small part in supporting pressing issues such as LGBT rights, young people with learning disabilities and vulnerable individuals.
What inspired you to be a Pilotlighter?
I have always wanted to find ways to "give back" and contribute social value to the community so I jumped at the chance to use my business skills to help drive scale at a strategic level in areas such as vision and mission, governance and funding. This has helped charities expand and provide more services to more beneficiaries.
How has Pilotlight helped you to give back?
The Pilotlight 360 has provided a unique approach for me to work as a team and really come alongside a charity CEO for 10 months. We've worked specifically at a strategic level rather than focusing on the nitty-gritty operational details of the charity to create lasting change that will have long-term impact on its beneficiaries. Personally, I enjoy working at a strategic level because it enables me to use my business skills effectively and ultimately, give back better.
What impact have you had on the charities you've worked with?
With many of the charities I have worked with, I maintain a level of contact and I would say the single biggest thing I hear from the charity CEO is that the Pilotlight 360 has helped them regain a degree of self-identification and empowerment. Often charities feel they need to chase funding which carries them away from their roots. Often the leadership teams at charities are not able to give themselves time to think strategically about the future as they are so focused on operational issues so any growth happens organically but not as part of a strategic plan. I think I have helped these organisations feel a sense of ownership and clarity about how they make choices around their opportunities and challenges in order to have a funding strategy that becomes deferential to their organisational strategy, not the other way around.
Has working with charities inspired you in any way, particularly coming out of COVID-19?
I find the Pilotlight 360 that Pilotlight offers inspiring. COVID-19 simply validates this and in no way changes the importance of Pilotlight's value which I have believed in since doing my first programme years ago.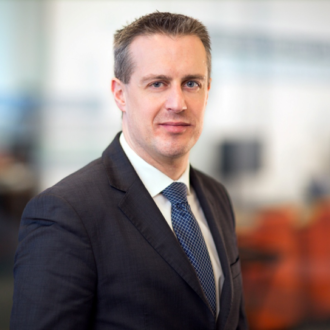 Head of Sustainable Investing, Lipper and I&A Insights , Refinitiv