Matt is Vice President of Information Security Risk Management and Business Information Security Officer at Thomson Reuters. He has just started his second project as a Pilotlighter.
What is your greatest professional achievement?
I think it would have to be moving jobs mid-way through my career. Having worked in financial risk roles for nearly 20 years I transitioned into a role in information security whilst working at Morgan Stanley. Cyber as a topic has always interested me and when the opportunity came up I knew I had to embrace it. The last 10 years have been very exciting and challenging. Cyber is an area that is constantly evolving and is now one of the largest operational risks that firms face. Taking on something totally new felt like a brave step, but one I am so pleased I made. Being bold and brave really does pay off.
What does success mean to you?
Success to me is having a goal with a plan for how to achieve it, implementing that plan and finally realising the goal. This is how I approach business, and is, for example, how I approach the implementation and automation of business processes that drive efficiency and risk reduction. I've also approached more personal projects in this way too, for example, in the way my friends and I trained to complete the Three Peaks Challenge to raise money for Great Ormond Street Hospital.
Who's most influenced you in your career and why?
The previous chairman of Morgan Stanley, John Mack. I learnt a lot about strong leadership and the importance of the customer from him.
Why did you become a Pilotlighter?
The opportunity came up for Thomson Reuters to sponsor a place for me on the Pilotlight 360. I wanted to give back and help the charity sector using my corporate experience, so it was the perfect fit.
What keeps you working with us?
The Pilotlight team, my fellow Pilotlighters and the charity CEOs I've worked with. Strong collaboration and innovative ideas make the time valuable and rewarding.
Tell us one thing you've learnt through working with us.
It's amazing how much you can achieve with very little funding if you have passion and drive. The work the charity CEOs I've met do has been eye-opening.
Please give an example of an occasion where you've applied this learning to your business career or professional work?
In a project meeting we worked through how to create a marketing brochure to attract corporate partners to the charity. It was very relevant to me at the time, as I was working on a product marketing project. I brought my learning back to the office.
What's been your biggest challenge?
Really understanding what makes the biggest difference to a charity. My perceptions changed throughout the beginning of the project.
What's been your biggest surprise?
The passion and commitment of charity CEOs to ensure the value of every pound spent is maximised.
Has working with charities inspired you in any way?
Yes. I've found it both inspiring and rewarding and am now looking forward to seeing how my new project with TASC develops.
Has being a Pilotlighter influenced you in any other area of your life?
I enjoy giving back and the challenge and opportunity of helping others. Being a Pilotlighter has inspired me to get involved in raising money to help another charity that is close to my heart.
Describe the Pilotlight Effect.
It's enjoyable and rewarding. Everyone should do it!
What is your superpower, and how are you deploying it to help the charity you're working with?
I'm not sure I have a particular superpower... however it's been surprising how general business knowledge is readily transferrable to help a charity transform the way it operates.
What one question would you ask the next Pilotlighter (who does a profile)?
Do you feel the charities you've worked with through Pilotlight have maximised the opportunity, and were open to change?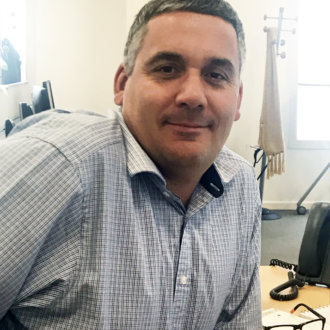 VP of Information Security Risk Management and Business Information Security Officer, Thomson Reuters