Last week the class of 2017 Weston Charity Award winners marked the end of their engagements with us and celebrated how far they have come at Fortnum & Mason's. The event was not only a great celebration of all the work done in the last year, but it also showcased the significant impact that the Weston Charity Awards and the Pilotlight Programme has brought to the charities we've worked with. Since the awards began in 2014 we've worked with a diverse range of charities and the 2016 winners are no different. They all have increasing need for their work, they all have a decreasing pool of funding to support their activities, and they all came to the awards wanting to make their organisation more efficient and effective so they can ultimately help more people.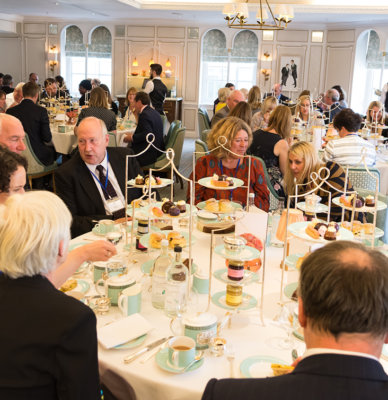 It's inspiring to hear that since winning the awards in 2014 Horden Youth and Community Centre has doubled in size and significantly increased its income. I'd urge you to watch the short 'Creating lasting impact' film that premiered at the event showcasing the transformation this charity has been through, which all started from the strategy created through the Pilotlight Programme. The film also features Emma Pears CEO at SELFA, one of the charities that has just finished its engagement with us, reflecting on her year. SELFA will now be implementing the strategy created during the Pilotlight engagement and I'm very excited to see where SELFA is in two years' time!
Challenges that come up time and again for the award winners are funding and fundraising, long-term strategy and growth. The awards have tackled these challenges head on for many of the charities we've worked with, tooling them up for the next step in their development. For example:
Funding and Fundraising
Healthy living charity Zest, wanted to look at the sustainability of its funding, and by the end of the project created a fundraising strategy that looked at different funding streams. In September 2017, Zest officially opened the Leeds Cookery School, and the income of the school will help create an alternative income source, enabling Zest to better support its community.
Long-term Strategy
Staffordshire Women's Aid, provide services for sufferers of domestic and sexual abuse, and wanted to work towards building a strong strategy which was more sustainable. With the Pilotlighters' support, it now has a new three-year strategy and is finalizing its business plan that includes an integrated financial plan, as well as plans looking at actions, risks, fundraising, marketing and an evaluation framework, which can be applied to the organisation as well as staff engagement.
Growth
Malvern Special Families (MSF), runs play schemes for young people with disabilities and other special needs. When starting its award journey the charity was keen to consider its long term aims and how it could improve the likelihood of achieving them. As a result of the Pilotlight process the charity has been better able to clarify and work towards its objectives. This has helped MSF put together a business plan that will enable them to support even more young people and families.
These are just some of the examples of the work undertaken by the award winners, ensuring they are better prepared to face the future. When you think about support for small charities your first thought may not be leadership development or business planning or strategic work, but we know it's a proven way to maximize impact and sustainability.
Applications for the next round of Weston Charity Awards will be opening in December. Follow us on Twitter, Facebook and LinkedIn for more stories of transformation. In the meantime you can watch the 'Creating lasting impact' video here.