Image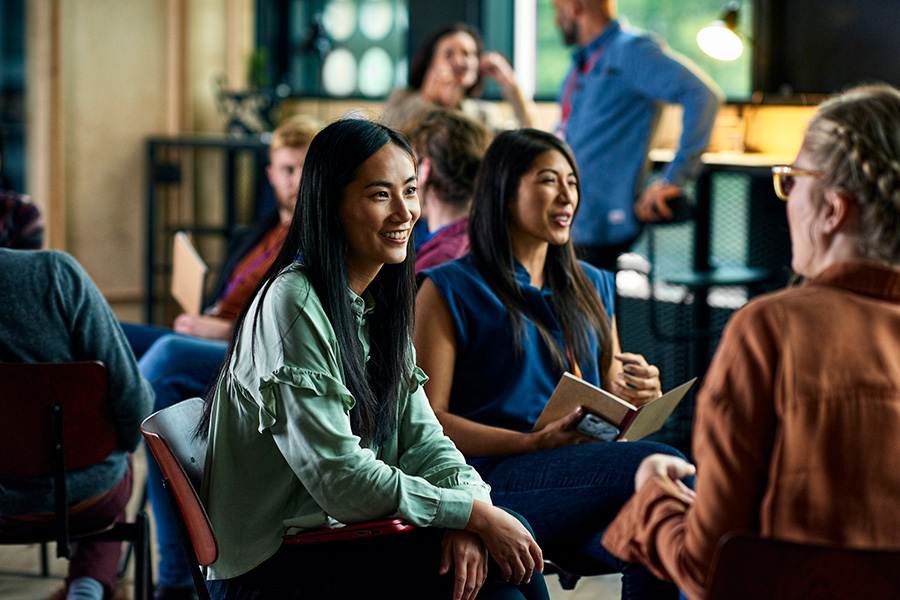 The empowerment of women has been a key passion and interest of mine for going on a decade, amplified whilst studying an Advertising degree (a male-dominated industry with an outdated reputation behind it). My dissertation analysed the representation of women as AI in the film industry, how it reinforces archaic gender roles and encourages objectification. Following this, I suppose I became somewhat sensitive to how women are perceived in the world, and the injustices and imbalances faced in daily life. I knew I wanted to, in however small a way, contribute to the progression and equality of underrepresented genders. 
Follow your passion 
Inspired by the many inspirational women in business I was able to connect with during a previous job role, I launched a passion project in 2020 called Women Who Will, which was a community for women working towards social change through their businesses.  
The vision for this project was to inspire and empower its community, amplifying voices, and building connections. I had the joy of facilitating workshops and peer support sessions for this brilliant network, watching the group share their challenges and wins, and having an enthusiastic team cheering them along the way. However, a key insight that came from starting the group was the loneliness felt by not only running your own business, but also the heavy weight from trying to make the world a better place through this business.  
Green tourism, sustainable fashion and youth entrepreneurship were just some of the topics I was able to learn more about through these social entrepreneurs. Far beyond a CEO hungry for profits, these leaders mark their success on the impact they have on the world. There is a special connection between those who aren't striving to reach the top of the beanstalk but instead, spread the beans across the field. A different kind of pressure and ultimately a different kind of leadership comes from starting an enterprise for the benefit of a greater good. 
A highlight of my time managing Women Who Will was collaborating with a community member on an event, 'Empowerment Through Enterprise', which explored how entrepreneurship is a vital tool for generating empowerment for underrepresented and disadvantaged groups. I had the pleasure of hosting a panel discussion with two female refugees that started businesses through the support of TERN (The Entrepreneurial Refugee Network). One launched a sustainable lingerie brand that employs asylum seekers (mostly women) in the supply chain as a way to support integration and financial security. The other founded a charity that fosters youth voice, leadership, and engagement of young people of the global majority. Hearing the stories of how these women pursued their own kind of leadership, despite the many barriers faced along the way, was incredibly moving. 
Stereotypes are there to be broken 
As a passion project, Women Who Will taught me so many lessons, debunking my earlier perception that positions of leadership were reserved for those possessing a particular set of attributes. I learned that it was possible to lead with empathy, vulnerability and kindness. And how important it is to inspire others who also feel they aren't the 'traditional' leadership type to pursue this dream. 
In my current role at Pilotlight, I have the pleasure to work with impact-driven leaders every day, tirelessly doing their bit to tackle society's biggest challenges. I am proud that 75% of my projects are organisations led by women. And for this year's IWD theme of Embracing Equity, I spoke to two of these charity leaders to understand how gender equity is embedded in their organisation, and why they think this is important.  
Upstart has been female-led since launch and gender equity sits at the heart of our commitment to diversity, fairness, inclusion and representation. However, as an organisation which encourages and supports young people to consider careers in the arts and media, we face up to the continuing male dominance across the creative industries, especially in senior roles. Our contribution is to support these young women to develop their skills, confidence and personal voice, giving them the tools to enter and challenge the workplace. 
Diana Walton, Director of Upstart Projects 
Signpost Stockport for Carers is proud to Embrace Equity by taking an active stance to support the women that we work with to overcome the additional challenges that they face, whether this has come from taking a break from paid work to care for children or other family members. We strive to provide opportunities that will improve equity and to create a vibrant and supportive space for all the women that are involved with our organisation.
Julia Hewer, Director of Signpost Stockport For Carers 
To all the women in business, wherever you are in your journey – know that you're not alone. Leadership isn't always linear and neither is it always easy, but it is always possible. If you're ready to develop your leadership or business skills, we'd love to hear from you.
Written by

Kate Allen
Project Manager - Pilotlight
Related Charities
Ready to start your journey?
Seven out of 10 small and medium sized charities are actively looking for pro bono professional skills to support what they do, but only four out of 10 find it.
Pilotlight is a charity that amplifies the impact charities, business and individuals can bring to make a better world.
Image